| | Voltage Stabilizers |
| --- | --- |
Our range of voltage stabilizers includes servo voltage stabilizers, three phase voltage stabilizers, single phase servo voltage stabilizers, phase servo voltage stabilizer (oil cooled) and phase servo voltage stabilizer (air cooled).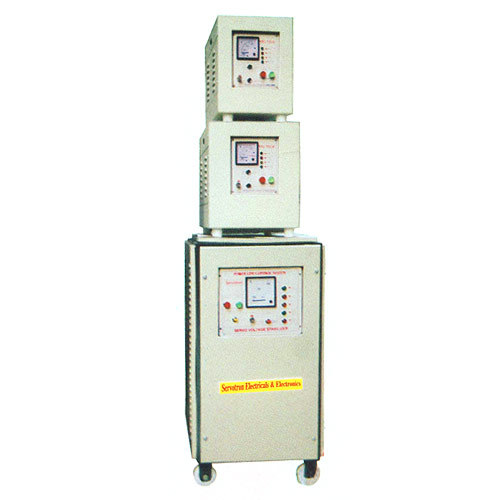 Single Phase Servo Voltage Stabilizers
We offer a precision engineered range of Single Phase Voltage Stabilizer which are used in equipments which are operated from A.C supply. These provide optimum performance during high and low voltage cut-off. With speedy rectification at output our range of single phase servo stabilizer has no distortion. These are widely used in CNC Machines, Hospital Equipment, Computers and Heavy Industries where constant voltage is required.
Features:
High Reliability
High efficiency
Wide input voltage range
Quick response
Perceptible alarm for trip conditions
Built in digital volt/frequency meter